Webuild: «Work at full speed for the new Genoa dam»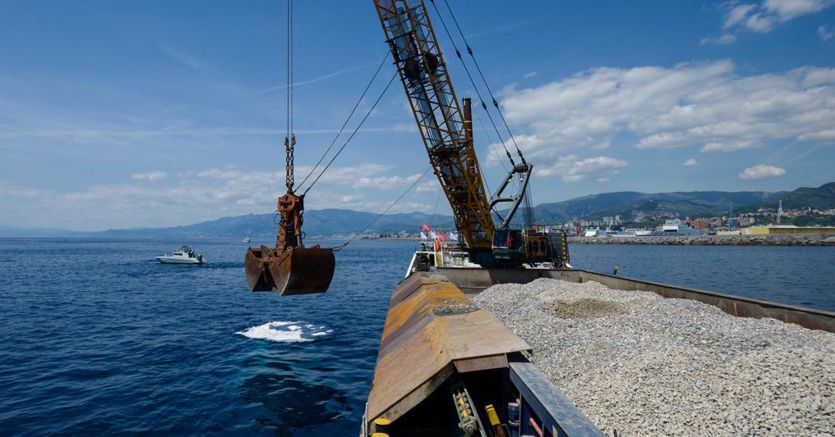 Works "at full speed" in the construction site of the new breakwater of the port of Genoa. This was communicated by Webuild, the company that leads the PerGenova Breakwater consortium, which also includes Fincantieri Infrastructure Opere Marittime, Fincosit and Sidra, to which the work was commissioned by the Port System Authority of the western Ligurian Sea.
As envisaged in the plan, a note reads, «approximately 100,000 tonnes of gravel have already been placed on the seabed, which will contribute to the consolidation operations. The laying activities are proceeding at full speed and employ two ships that transport a total of 3,000 tons of gravel per day, with a larger ship that completes a round trip from Piombino every 36 hours and a smaller one that completes a round trip from Piombino and return from Genoa every 6 hours. To date, two ships have already made 70 voyages."
Funding from the Pnrr
For the construction of the dam, which will also benefit from Pnrr funding, the note continues, "the employment of a thousand people is estimated, between direct employees and third-party labor, with the involvement of a supply chain which, to date, is around 70 society. The gravel laying activities on the seabed, which began on the day of the laying of the first stone, last May 4, will then continue until September 2024".
Meanwhile, in a couple of weeks, "the consolidation activities will start: 70,000 columns of gravel between 7 and 12 meters long will be built in the seabed to guarantee stability to the base on which the barrier will rest, an operation that will take place thanks to the use of 4 floating platforms of 600 square meters, the pontoons, each of which is equipped with two cranes».
You work for 17 months
This processing phase is expected to last for the next 17 months. This will then be followed by «the construction of the base, which will rest on the seabed up to a depth of 50 metres, for the construction of which 7 million tons of rock material will be used, partly obtained from the dismantling of the existing dam, with a view to circular economy".