Arsenale signs an agreement with Saudi Arabia Railways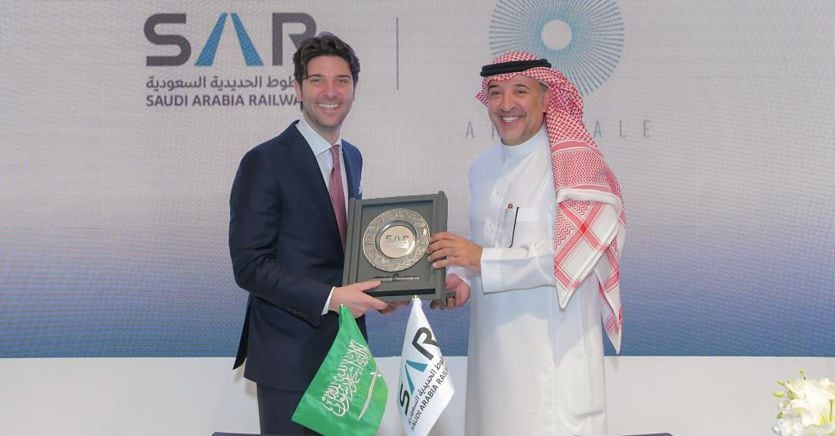 Arsenale, an Italian company active in luxury hospitality, and Saudi Arabia Railways, the national railway company of Saudi Arabia, yesterday signed the memorandum of understanding for the development of the first luxury train in the Saudi Kingdom. The agreement, signed in Riyadh, on the occasion of the Saudi Forum of Tourism, by Paul BarlettaCEO of Arsenale, e Bashar Al MalikCEO of SAR, is part of the project Dream of the Desert, in response to the new trend of slow tourism and experiential travel, which will bring a train with 40 luxury cabins on Saudi railways by 2025 with a journey that will cross the country from the capital Riyadh to Qurayyat, in the north of the country and on the border with Jordan. The project has a value of 51 million of train manufacturing and 10 million of further investments in Italy.
"The signing of this MoU between SAR and Arsenale is to be considered a first step towards the introduction of a new offer within the tourism market with an experience of luxury travel by train" commented Al Malik.
Trains built in Italy
This agreement is part of Arsenale's international expansion plan to build the largest fleet of luxury cruises on rail. Italy, in particular the South, thus returned to producing trains, after the last one built in 1989 by Fiat Ferroviaria.
The first six trains will see around 160 million investments in the Italian supply chain. The development of the plan will then lead overall to an impact on the Italian market of over 500 million over the next 7 years. «The carriages will be made in Southern Italy and this will result in the creation of jobs and will relaunch companies heavily burdened by the covid and by the low activity of the Italian railway manufacturing activity» comments Barletta.
The project in Saudi Arabia
«The Italo-Saudi partnership establishes the union of intentions of the two companies for an innovative and revolutionary project that will guarantee Saudi Arabia the expansion of its tourist offer and confirms how much luxury tourism in the Arab country is full of new opportunities. A new frontier of travel in a place where the railway has ancient origins and has been present for over one hundred years» reads the joint press release.