Telling the future of the future: at the Trento Festival full of presences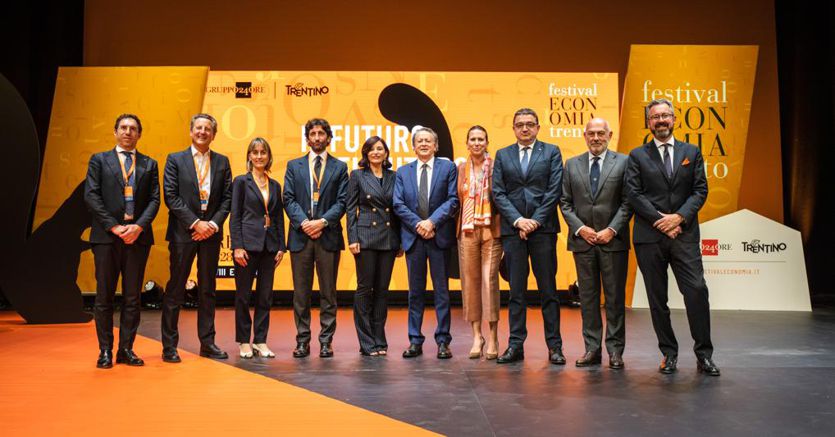 The theme of young people often recurred in the inauguration ceremony, two hours which also had – in a sort of long-distance dialogue between generations – the moved greeting of an old lion of Italian finance, as well as founder of Intesa Sanpaolo together with Giovanni Bazoli, like Enrico Salza ("I'm happy to be here, on my eighty-sixth birthday").
A ceremony - moreover - which also had the contribution - emotionally and aesthetically very beautiful - of the live translation into sign language for the deaf by two specialists such as Francesca De Carli and Valentina Bellamoli.
A ceremony – or, better, an entire event – ​​marked by a non-rhetorical and abstract desire for confrontation and inclusiveness. «I was very pleased - noted the president of the Province of Trento, Maurizio Fugatti - that, in addition to a large number of government ministers present in the festival program, the director of Sole 24 Ore Fabio Tamburini have interviewed Elly Schlein, the secretary of the Democratic Party and leader of the opposition. As always in the idea of ​​a festival that brings people together, I found it interesting that Tamburini participated in the hoteliers' meeting the other day. This means being close to the people and close to entrepreneurs. With great naturalness and simplicity».
The Festival of the Economy of Trento, in the sum conferred by the Il Sole 24 Ore group, is therefore building a physiognomy of cohesion and inclusiveness, high speeches and being together, proposing winged analyzes and carrying out concrete gestures. The CEO said proudly Mirja Cartia d'Asero: «Ours is the first publishing group to have received gender equality certification. For us, the Festival is strategic. In all and for all. Last year the meeting panels were 23% female. This year the share has risen by twelve points: 35% of the participants are women. This is a very, very important result."
This desire to implement a wide-ranging cultural and civil project was also confirmed by the mayor of Trento, Franco Ianeselliwho recalled how the three characteristics, at the moment, of his city are the cultural depth of the festival, the concreteness of the 1.3 billion euro project for the railway network which should keep freight traffic outside the inhabited urban perimeter and the great challenge of Trento European capital, for 2024, of volunteering.