Ntt Data inaugurates the branch in Salerno and hires 100 people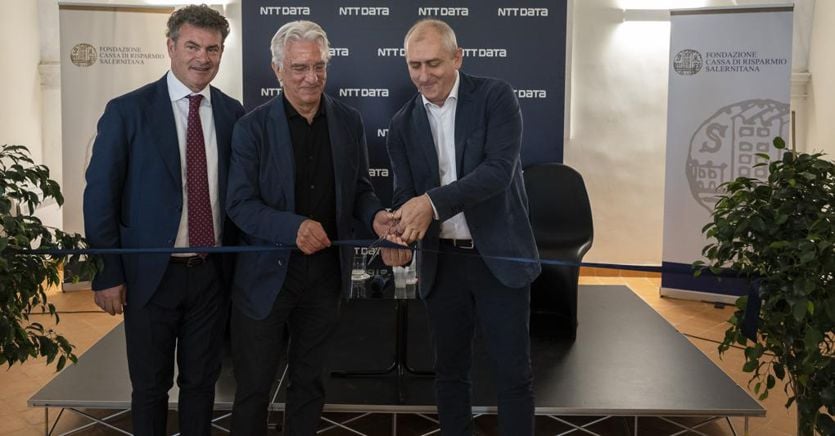 Ntt Data inaugurates a new branch in Salerno. And he announces that he will add the same number to the 50 employees already present in the area by the end of the year. But Salerno is only one stage in an expansion plan of the Japanese multinational in Italy launched in 2020 and to be completed by 2025 which provides for 200 million investments and 5 thousand new employees, especially in the southern regions, where the IT company is already present also in Naples, Bari, Cosenza and expects to hire another 300 people by 2025.
The new branch
In Salerno, the new branch has been located within the San Michele Complex, a recently renovated central location, the beating heart of the cultural and social life of the city. The San Michele Complex, owned by the Carisal Foundation, which manages it in collaboration with Palazzo Innovazione for Coworking activities, has made more than 70 workstations available since January, almost all of which are already occupied. In the Campania city, the IT multinational is looking for professionals with precise technical profiles including java developer, net developer, cloud engineer, solution architect, functional analyst, data engineer and data architect, with experience levels ranging from recent graduates to seniors.
Agreements with universities
In order to select well-trained young people and also contribute to their preparation, Ntt Data has entered into collaboration agreements with southern universities including the University of Salerno, the University of Salento, the Polytechnic of Bari and the Orientale of Naples . In this way, an attempt is made to promptly identify talents and provide them with the opportunity not to emigrate to the North or abroad, but to remain in their own territory of origin.
Isetta (Ntt Data Italia): "Discourage flight abroad"
«We chose Salerno for the opening of our new headquarters because it will be one of the digital cities of the future and because it has an excellent university fabric, an essential element for a sector such as IT, which is based on the continuous updating of skills – comments Luca Isetta, chief operating officer of Ntt Data Italia – The opening of this new office is part of the broader investment plan we are implementing in Italy: we have opened new offices in Bari and a new office in Bologna, we have expanded the workforce in Naples and strengthened our presence in Cosenza, for years a pole of global innovation excellence for us. We want to invest in the local area, promote southworking and create local jobs, discouraging the flight of talent abroad».