Mittel, more boost to bathroom furnishings. New investment plan for Ibd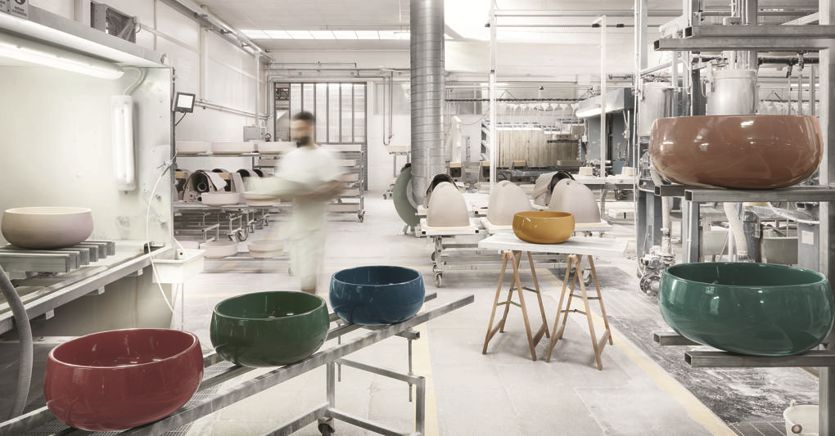 «New acquisitions, commercial alliances to strengthen distribution abroad, development of the contract. The goal is growth." This is how Marco Colacicco, president of Mittel, outlines the next moves of the Italian Bathroom Design (Ibd) group: the bathroom furnishing pole, controlled by the holding company, which has its production heart in the historic sanitary district of Civita Castellana (Viterbo) and is by the companies Ceramica Cielo, Galassia and Disegno Ceramica.
Contract objective
«The logic is that on the one hand of complementary acquisitions in strictly neighboring sectors, on the other hand of partnerships with other operators who already preside over markets of interest to us. All within a strong vertical integration of the group: a critical success factor, which provides structural solidity over time and which in a moment of supply chain crisis, which we have seen break out in the years of the pandemic, has proved to be fundamental. Not only that: design and production go hand in hand in a relationship of continuous innovation, which means research on materials, high quality standards, competitiveness in the medium-high range. All this is leading us to focus more and more on the contract segment, which has great growth prospects: hotels and above all large residential developments. At the moment we do not yet have a significant presence and it is a priority growth opportunity. The goal is to ensure that it represents more than 30% of revenues in the next three years».
Turnover of 77 million
In 2022, the Ibd group achieved a turnover of 77 million (+8% compared to 2021), with an Ebitda adjusted of approximately 19 million (+17% compared to 2021) - equal to a margin of 25% - and a net financial position of over 18 million. The group has four factories, all in Italy, and over 400 employees. It sells in over 100 countries worldwide: the export share is over 40%.
«After the significant investments already made in recent years to intercept the 4.0 evolution of the industry, we expect a further 20 million euros by 2028 to strengthen growth and develop the themes of sustainability and innovation. A commitment that also translates into an increase in the workforce, for which we expect to hire over 100 people in our Civita hub over the next few years», continues Colacicco.
Contraction phase
The international and historical scenario remains complex: «An inevitable phase of contraction is underway, which is considered temporary and short-term, generated by significant economic effects on the home world which are mainly determined by inflation and interest rates in continuous increase. It is a market for companies with solid economic margins and zero or low financial debt or a liquidity position, as evidenced in this context by the continuous growth of the market shares of all the companies in our group. The bathroom furnishings sector remains a sector with important growth prospects and structural stability, especially in the high-end segment where Ibd is located», continues Colacicco.