In Emilia also the waste emergency: 100 thousand tons to be collected immediately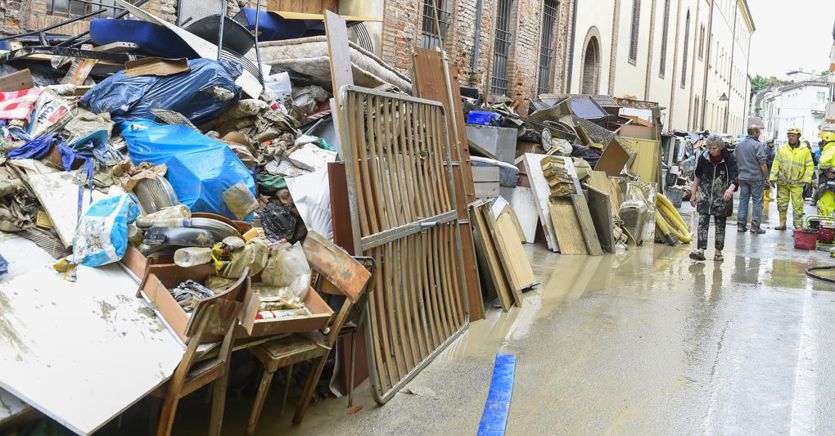 There is a photo on the net that gives the sense of everything: chairs, mattresses, black bags and much other bulky material are piled up. Someone made an improbable makeshift dump out of it. We are in Lugo, in this photo we are talking about, but we can continue peacefully finding, days after the flood that folded Emilia Romagna in two, heaps of waste of all kinds in the streets of the injured towns death from the water. It is an emergency within an emergency and Hera's operators are well aware of it, which has mobilized a thousand people and over 250 vehicles (water pumps, vacuum trucks, motor pumps and waste collection vehicles).
The watchword right now is to act quickly to prevent that waste from ending up on the coast, at the sea and that is why it is necessary to collect it as quickly as possible by placing the ordinary alongside this gigantic extraordinary. «A very high mountain, that of collection, and after treatment - explains Andrea Ramonda, Herambiente's managing director - which must be managed and which we will manage in the shortest time possible, giving priority to those areas where there is a need to access safety, and to the historic centres".
Based on the collection activities that have already started in recent days, Hera estimates that it will collect over 100,000 tonnes of waste in the areas affected by the emergency, a quantity that is normally collected in the same areas in ten months. There is everything in the mountains of improvised rubbish that emerge as the streets are emptied of water: there is bulky waste and there is WEEE (waste from electrical and electronic equipment, such as refrigerators, PCs, ovens, televisions) . There is all that stuff that citizens need to get rid of because it is irreversibly damaged by water. But there are also gas cylinders and, sadly, animal carcasses. The appeal to citizens, to simplify the work of those who have to collect and dispose of this waste, is to separate it as much as possible and to place it in places accessible by large vehicles.
And then there is another issue: the material collected by the operators is almost completely soaked in mud and therefore it is not possible to use the five regional waste-to-energy plants of Parma, Bologna, Forlì and Coriano di Rimini.