Ex Ilva, the company opens in Taranto the cash register in derogation for 2,500 workers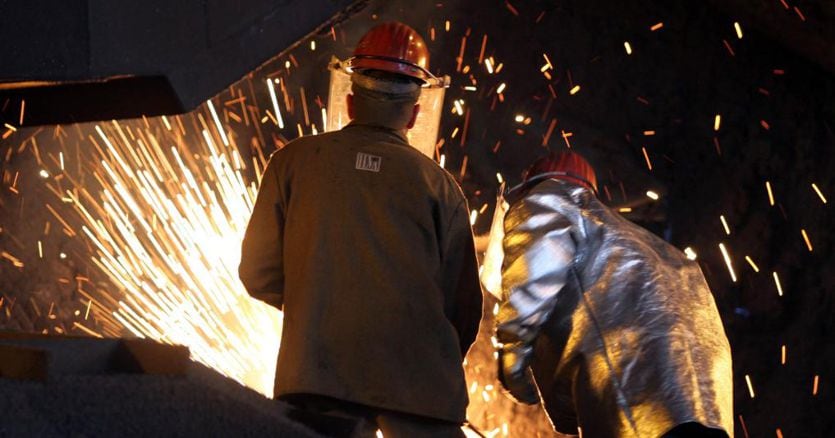 Acciaierie d'Italia, ex Ilva, requested on May 25 for the Taranto plant the extraordinary redundancy fund by way of derogation. Duration: from 20 June 2024 to 19 June 2024 or alternatively until 31 December 2024. The employees involved are 2,500 as the maximum number. There are 2,010 manual workers, 286 between white collars and middle managers and 204 intermediates.
The opening of the procedure was communicated to the Ministries of Labor and Enterprise, the Puglia Region and the trade unions. At the end of March, Acciaierie d'Italia finalized an agreement with the labor ministry with the trade unions Fim Cisl, Fiom Cgil, Ugl and Fismic for the renewal of the extraordinary fund until March 2024 for 3,000 group employees.
Uilm and Usb have not signed the agreement. The agreement has a duration of one year for all the former Ilva sites, including Genoa Cornigliano, Racconigi and Novi Ligure, but excluding Taranto, where current coverage is ensured until 19 June. This is because the Apulian site has already exhausted the availability of the social shock absorber. And therefore from mid-June onwards it is necessary to find a new cover. However, between the extraordinary fund (in progress) and the derogation (future), the maximum number of units involved remains unchanged: 2,500.
Reorganization until 2025
In the new procedure, the company explains that the reorganization program "will continue until 2024/2025 in all production units" and the cash in derogation is requested for Taranto "due to the unity of the overall reorganization process involving the company" . The latter, says AdI, will also be focused on investments with a view to decarbonising production. Announced the demolition and reclamation of the stoves for the subsequent refurbishment of blast furnace 5, the largest in Europe that has been shut down for years, the plant for the injection of polymers into the blast furnace ("the use is consistent with a targeted decarbonization roadmap to the enhancement of the circular economy") and the electric oven.
"The company - it is explained - will resort to the aforementioned social shock absorber by adapting the workforce to the production volumes which at present, upstream of the reorganization process, can amount, under maximum operating conditions, to approximately 4,000,000 tons of steel, below the maximum production value allowed by the Dpcm (29 Sept. 2017)" (6 million tons per year). Therefore, states Acciaierie d'Italia, "the entire production cycle of the Taranto site will suffer the consequences deriving from the maximum expected level of steel production, determining repercussions on the saturation level of the running structures of the plants and, therefore, with obvious repercussions on the possibility of continuous employment of all the personnel employed in the production and maintenance fields and of the various staff and service bodies".