Engie inaugurates the largest agri-voltaic park in Italy in Sicily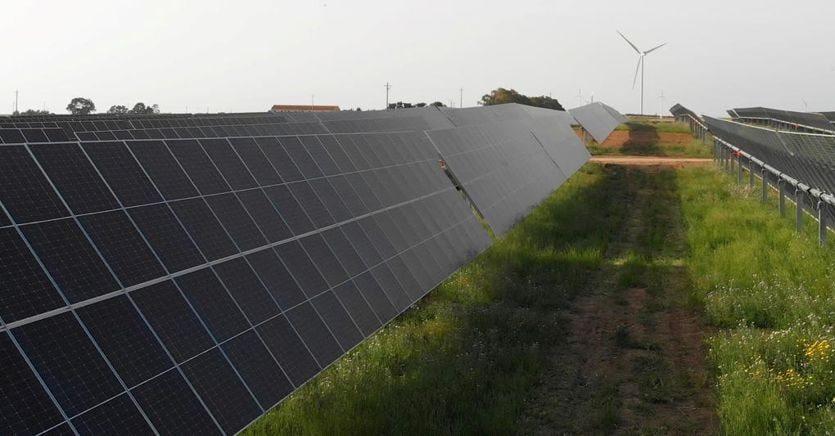 The key points
Engie's goals in Italy
Bureaucracy too slow
Clean energy destined for Amazon
It is the first and largest agri-voltaic park built in Italy and it is also the first conceived on the basis of a Corporate Ppa (Power purchase agreement) contractual model between two private companies. The two companies are Engie and Amazon and the park is the one inaugurated in an area halfway between Marsala and Mazara del Vallo in the province of Trapani. The agrivoltaic park, whose construction was announced in 2021, covers 115 hectares and has an installed capacity of 66 MW. An investment made possible thanks to a 100 million euro Green loan financed by Cdp, Societé Generale and Bnp Paribas . The goal is to produce clean energy and at the same time cultivate the fields to grow vines and olive trees, but also almond trees and aromatic and medicinal plants, from rosemary to laurel, lavender and asparagus (the care of the crops is entrusted to the local nursery Zichittella, in the area for over 40 years). The agreement between Engie and Amazon provides for the construction of a second 38 MW agri-voltaic site in Paternò in the province of Catania: in total the two plants will have an installed capacity of 104 MW and the energy production will serve to power Amazon's activities in Italy.
Engie's goals in Italy
«Despite the context of the global crisis, we have continued on our decarbonisation path towards the energy transition. For us, the Mazara del Vallo agrivoltaic plant is fully consistent with the development strategy in Italy and in the world – says Monica Iacono, CEO of Engie Italia -. We currently have 500 MW of installed renewable capacity and our plan aims to reach 2 GW in 2030 between wind and photovoltaic plants. To achieve these objectives, a continuous and constant relationship with the territories and with the central institutions is essential together with a stable, simplified legislative and regulatory framework, which we hope will be defined soon".
The Mazara del Vallo plant is equipped with latest generation technology: bifacial solar panels mounted on single-axis trackers allow both direct and reflected light to be captured from the surrounding land, thus facilitating energy production. The use of bifacial solar panels and trackers minimizes the area required for the photovoltaic system and maximizes the effectiveness for the agricultural destination. 150 people were employed to build the Mazara del Vallo plant.
Bureaucracy too slow
«We have been in Italy for many years and we have found that it takes too long to authorize a photovoltaic or wind power plant. Plants of this size need two to three years, too long to be able to accelerate the energy transition – explains Samuel Renard, director of Renewables Engie Italia -. There is a level of bureaucracy that prevents us from being fast and, in my opinion, from respecting the pace we must be at in order to reach the Italian objectives in terms of renewables». In Sicily, Engie owns five plants in operation (wind plants in Salemi/Trapani and Elimi, photovoltaic plants in Lembisi and Santa Chiara and the agri-voltaic plant in Mazara del Vallo) powered by renewable sources for approximately 174 Mw of installed power and is building new projects for a further 68 Mw: a 38 Mw Peak agri-voltaic plant (33 Mw AC) in Paternò and the 30 Mw Rampingallo wind plant). Associated with the Trapani Salemi wind farm there is a "Fast Reserve Unit" with a capacity of 12.5Mw: a storage system created to support Terna in guaranteeing the stability of the electricity grid. Worldwide, however, the Engie Group has an installed green energy capacity of 38 Gw, with the goal of reaching 80 Gw by 2030.
Clean energy destined for Amazon
For its part, Amazon is today the largest corporate buyer of renewable energy globally: at the end of 2021, the company has achieved an 85% renewable source supply in all its activities and is close to the goal of powering all its activities with 100% renewable energy by 2025. «For us - says Giorgio Busnelli, director of consumer goods categories for Amazon in Europe - decarbonising our activities is one of the strategic pillars, we want to reach 2040 with net zero emissions of CO2 and therefore this project helps us to achieve this goal, but also to contribute to Italy's energy transition and to support the local communities where we operate. It does so with a systemic approach that we really like in which the companies, us and Engie, and the institutions put themselves and are able to have a positive impact for us and for the planet». There are over 400 renewable energy projects in 22 countries, including 128 solar and wind projects in Europe. In Italy, Amazon has 22 'clean' energy projects. «Nineteen sites powered by rooftop photovoltaic systems, for a total capacity of over 115 MW, enough to power over 90,000 Italian homes» concludes Busnelli.