Costantino (The Italian Sea Group): «Perini is now sailing in calm waters»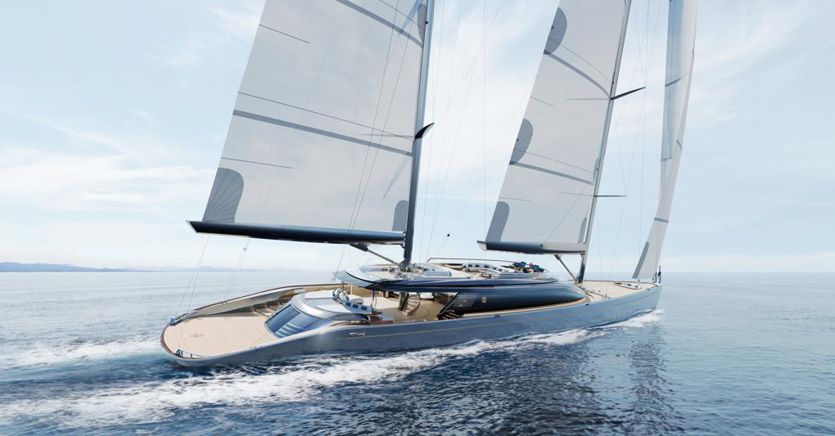 Perini Navi rises from the stormy sea. The iconic brand of large sailing ships had gone bankrupt and was purchased at an auction by the Tuscan shipyard The Italian Sea Group (Tisg) in December 2021. And now it aims to write another success story under the leadership of the new ownership. «Perini can navigate in safe waters for very long years», announced Giovanni Costantino, owner of the Tisg shipyard, presenting the new fleet called Genesis and made up of three models, 48 ​​metres, 56 meters and 77 metres.
A project is also being studied for a 99-metre boat, an evolution of the historic Maltese Falcon. The classic and elegant aesthetics of Perini Navi have been reinterpreted in a modern key – explained the designers – with attention to environmental sustainability expressed in the solar panels and batteries that will power the ships when the wind is not enough. The hull will not necessarily be blue, the symbolic color of Perini, but will be left to the owner's choice, while a blue leather handrail will be the common thread of the interiors and exteriors.
Costantino explained that he has already concluded the sales of four Perinis, the construction of which (by 2025) will add to the completion of the boat of Larry Allison, executive chairman of Oracle, which comes from the bankruptcy package. Costantino expects to sell two more Perinis within the year. «Already today, the brand accounts for 12% of our turnover», explained the entrepreneur, confirming the production of boats up to 55 meters in the Viareggio shipyard, Perini's historic headquarters, and the use of the Marina di Carrara headquarters for those of larger size. On the employment front, Costantino recalled the hiring of 65 people to support the Perini project: "The agreements linked to the acquisition provided for 35 hirings in three years, we are well over that in just one year".