A factory of the future for Bergamo and Brescia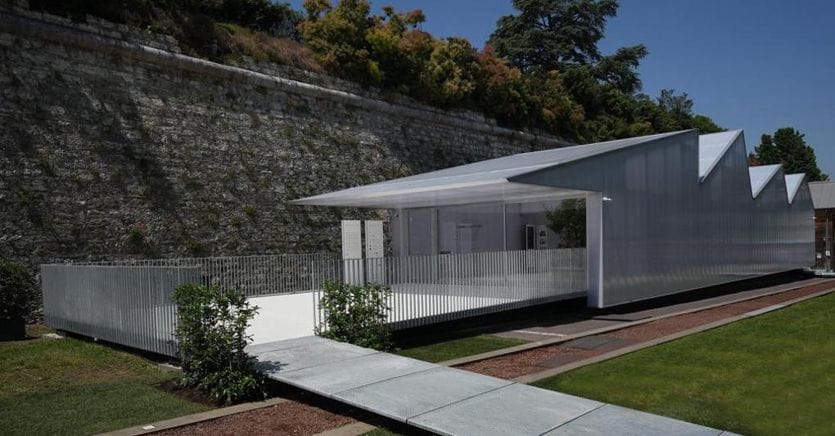 A pavilion of 195 square meters, with an external space, built in the name of eco-sustainability, with laminated wood portals for the supporting structure, x-lam panels
for the floor and load-bearing beams and honeycomb polycarbonate for the cladding: a sustainable material that will be recycled.
The "Factory of the Future", the project of the Association in via Cefalonia, was officially inaugurated today, 26 May, at the Brescia Water Park (largo Torrelunga 7).
for the year of Bergamo Brescia Italian Capital of Culture 2023.
The companies
The pavilion showcases the projects of 30 Brescia-based companies, selected through the competition of ideas launched in September by Confindustria Brescia, and divided into five thematic categories. For Corporate Culture: Brawo, Fleming Tecna, Gi Group, Gnutti Carlo, Intelco Italia Informatica, Saccheria Franceschetti. For Research and Innovation: Antares Vision, Fabbrica d'Armi Pietro Beretta, Feralpi Group, Gruppo Grazioli, Infinity ID, Matchplat: for Sustainability: Gruppo AB, Marfran, Montecolino, Mori 2A, Rubinetterie Bresciane Bonomi, Scao Informatica. For Welfare: El.Com, Gefran, OMB Saleri, Regesta, Saluber, VGV. Finally, for the Business and Territory category: AQM, BBS, Fedabo, Fonderie Ariotti, Olimpia Splendid, Ori Martin.
Virtual reality
The installation was created by the Brescia-based company Wood Beton, designed by the ARW studio and with the contribution, for digital technologies, of innexHUB; it will be open to the public, with free admission, from Tuesday to Sunday from 10 to 20.
Thanks to Confindustria Brescia and Ance, the Metaverse "BresciaVerse" will also be created for the Fabbrica del Futuro in the coming weeks on the entertainment platform The Nemesis (https://thenemesis.io/), which will offer innovative virtual reality experiences, in which users – wherever they are – will be able to create their own avatar, explore the virtual environments and contents of the Fabbrica del Futuro, as well as some symbolic places of the city of Brescia. Access to the experience is free.
Space
The Fabbrica del Futuro was created thanks to the concession of occupation of the space by the Municipality of Brescia, the authorization of the Archaeological Superintendence of Fine Arts and Landscape for the provinces of Bergamo and Brescia and the hospitality of AmbienteParco.